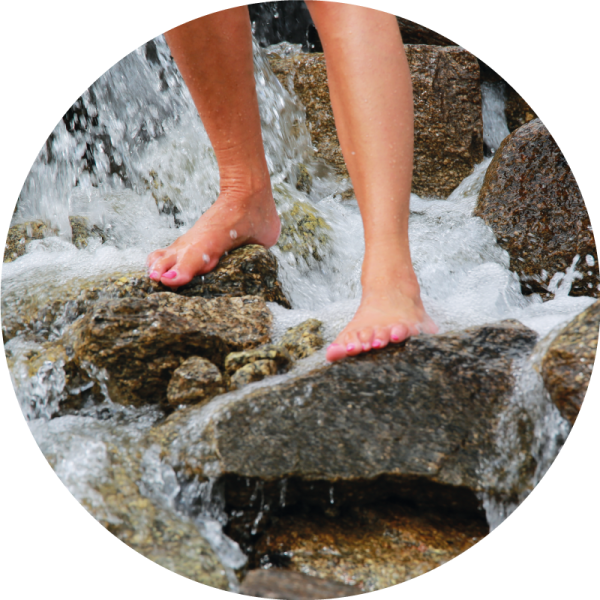 Hiking in Val Pusteria

Toblach in german or Dobbiaco in italian (1256 m) is also called the gateway to the dolomites because of its breathtaking view over the famous 'Drei Zinnen' (three mountains) and of it's closeness to the most famous mountains of the dolomites.
This uniqueness of the mountains you can experience in the Pustertal valley. A holiday in this area offers beautiful walking-tours, long hiking trails, remote mountain lakes, panoramas with wonderful views and a lot of pure tradition. Toblach gives you a chance to relax in quite surroundings and to unwind in a place close to nature.
You can visit oratories and cultural assets along the hiking trails, admire the idyllic lake of Toblach or the deep blue Dürrensee lake or explore the beautiful landscapes of the different natural park areas: The 'Naturpark Drei Zinnen' in the East and the 'Naturpark Fanes-Sennes Prags' in the West.
In the North of Toblach are the Central Alps and in the South the Dolomites, which the UNESCO declared world natural heritage in June 2009.


World of adventure Assling

Spend an unforgettable day at the world of adventure in Assling,

Get to know the native animals in the 1,5-hour round tour through the deer park. You will see deers, lynxes, raccoons, owls and many other animals amidst pure nature. In the farmer's shop you can buy a souvenir and enjoy a regional speciality at the Bärenwirt restaurant. Kids can let off steam at the nearby playground.
During a walk through the nature trail you learn a lot about the protecting function of the forest.
To top off a funny and unforgettable day you can make some rides with the summer bob.

World of adventure: www.erlebniswelt-assling.at
Wildpark Assling: www.wildpark-assling.at
Summer bob: www.funalpin.at
Restaurant Bärenwirt: www.gasthaus-baerenwirt.at



Dolomythos: Visit the Dolomites and their unique beauty
The highlights
"Megachirella wachtleri", the ancient ancestor of today's snakes and lizards. The mysterious dinosaur of the Dolomites.
The world of the dinosaurs: from the cavern bears of the Conturines to the dreadful saurian of the primitive times that left their traces in the Dolomites. Take a look through the Dolomythos time windows.
Treasure Digging-Field: As a special attraction Dolomythos has arranged a digging field. Visitors have the opportunity – and it's certainly a unique one – of finding their own personal rock crystal or even gold.
Dolomythos – Shop: The Dolomythos shop has a large variety of unusual gifts on offer. There is an extensive choice of fossils and other gem stones in various forms, from dinosaurs to other animals of the past.
Dolomythos – Stube: A 200-years-old Stube from the Dolomites. To linger and to enjoy traditional specialties. The cafeteria offers some space to relax after all the impressions.

Association Dolomythos
Michael Wachtler
Rainerstraße 11, I-39038 Innichen (BZ)

Tel. +39 0474 913462
Fax +39 0474 913092

www.dolomythos.com


The South Tyrol Museum of Folk Traditions at Dietenheim
About the Museum
According to the German ADAC Holiday Atlas, the museum of Folk Traditions at Dietenheim is one of the most beautiful open-air museums in Europe. It is spread over 4 hectares of land and includes also the stately residence Mair am Hof, which is the hearth of the Museum. It was founded in 1976.

The Mair am Hof Residence hosts various museum collections: votive tablets, popular art objects, cithers, belts, traditional costumes, pipes, etc.
On the open-air site there are several old farms and workshops. These buildings show a variety of forms and structures, which indicate the role and social status of rural population. Various kinds of vegetables, herbs and flowers grow in the farm gardens. Farm and yard animals graze on the meadows.

The Mair am Hof Residence
The stately residence Mair am Hof was built between 1690 and 1700 by Anton Wenzel von Sternbach (1651 - 1716). During the last centuries the estate passed into the hands of several owners. Before hosting the Museum, the main building was used as a school.

The Open Air Site
The open air site is the natural completion of the Residence and it is definitely worth seeing. About a dozen of old farms, workshops and rural buildings have been kept here in their original condition. A variety of vegetable gardens, orchards and fields with farm animals complete the rural scenery of this amazing museum site.


Church Aufkirchen

It's one of the most popular places of pilgrimage in the valley Pustertal.
The church has existed in its current way since 1465. Very popular is the "Miraculous Image" which shows the Lamentation of Christ.
The pilgrimage church can be visited every day from 7.00 AM to 19.00 PM.
In 1996 was built a contemplation pathway, which leads from the pilgrimage church in Aufkirchen to the oldest religious sanctuary of the area: The chapel "St. Peter am Kofel" on an altitude of 1450 m.

This place in the woods above Aufkirchen (Toblach/Dobbiaco) has always attracted many people and has probably been build in Carolingian Times.
The historian Karl Gruber has observed the probable reason of why the chapel was built in such a special place: On the day of midwinter at 12.00 a ray beam shines through the window of the chapel and lights the altar.
On the path to the "Peterkirchl" – as it is called by the local people – you pass 7 points of reflection,which show scenes of the life of Petrus.


Refugies and Mountain cabins in the Dolomites

Malga Grenten Anterselva Rieserferner 348 5845792
Rifugio Hexenschenke Anterselva Passo Stalle 347 271 9588
Rifugio Oberseehütte Anterselva Passo Stalle 0043 676 9439150 www.stallersattel.at
Rifugio Vedrette di Ries Anterselva Gruppo Vedrette di Ries 0474 492125 -
335 7185111 www.rieserfernerhuette.it
Rifugio Auronzo Auronzo Tre Cime 0435 39002 -
345 4744573 www.rifugioauronzo.it
Rifugio Bosi Auronzo Monte Piana 0435 39034
Rifugio Carducci Auronzo Alta Val Giralba 0435 400485 -
347 6861580 www.rifugiocarducci.eu
Rifugio Col de Varda Misurina Gruppo Cadini 0435 390410 www.rifugiocoldevarda.com
Rifugio Lavaredo Auronzo Tre Cime 0436 866097 - 349 6028675 www.rifugiolavaredo.com
Rifugio Lorenzi Auronzo Cristallo 0436 866196
Rifugio Vandelli Auronzo Sorapis 0435 39015 - 0435 400547 www.rifugiovandelli.it
Rifugio Berti Belluno Popera 0435 68036 - 0435 67155 www.rifugioberti.it
Rifugio Rinfreddo Comelico Passo Monte Croce 0435 68441 www.rifugiorinfreddo.com
Rifugio Cinque Torri Cortina d'Ampezzo Nuvolau 0436 2902
Rifugio Dibona Cortina d'Ampezzo Tofane 0436 860294
Rifugio Faloria Cortina d'Ampezzo Sorapis 0436 864346
Rifugio Ra Stua Cortina d'Ampezzo Fanes-Sennes-Braies 0436 5753 - 348 7617388
Rifugio Fanes Marebbe Pices-Fanes 0474 501097 www.rifugiofanes.com
Malga Aschtalm Casies S. Maddalena 0474 948036 - 348 7282727 www.aschtalm.it
Rifugio Houfahitte Casies Colle di Casies 349 7855098
Malga Kaser Alm Casies S. Maddalena 0474 948094
Malga Kradorfer Alm Casies S. Maddalena 0474 948043 - 348 6716207
Rifugio Messner Casies S. Maddalena 340 4963098
Malga Oberbergalm Casies S. Maddalena 0474 948034
Rifugio Randlhütte Casies Malga Schuher Alm 0474 978470
Malga Stumpfalm Casies S. Maddalena 0474 948146
Rifugio Tolder Casies S. Martino 0474 978238
Malga Uwaldalm Gsies S. Maddalena 0474 948051
Malga Weißbachalm Casies S. Maddalena 0474 978119
Rifugio Tre Scarperi San Candido Valle di Dentro 0474 966610 - 340 7698342 www.drei-schuster-huette.com
Rifugio Baranci San Candido Baranci 0474 913676 - 0474 913602 www.baranci.it
Rifugio Jora San Candido Baranci 335 6561256 www.jora.it
Rifugio Obstansersee Hütte Kartitsch Karnischer Kamm/Austria 0043 4848 5422 - 664 1618723
Rifugio Città di Carpi Misurina Gruppo Cadini 0435 39139
Rifugio Fonda Savio Misurina Tre Cime 0474 678597 - 0435 39036 www.fonda-savio.it
Malga Putzalm Villabassa Monte Serla 380 5150827
Malga Angerer Alm Valdaora Valdaora di Sopra 345 2280808
Malga Brunst Alm Valdaora Valdaora di Sopra 349 0846781
Malga Lanzwiesenalm Valdaora Sorafurcia 340 2188357
Malga Oberegger Alm Valdaora Sorafurcia 347 5220122
Rifugio Vallandro Braies Prato Piazza 0474 972505 www.vallandro.it
Malga Foresta Braies Lago di Braies
Rifugio Prato Piazza Braies Prato Piazza 0474 748663 - 0474 748650
Malga dei Cavalli Braies Croda del Becco 0474 745176 - 349 0070567
Rifugio Biella Braies Croda del Becco 0436 4467 - 0436 866991 www.rifugiobiella.it
Malga Stolla Alm Braies Prato Piazza
Malga Hochrautalm Rasun Rasun di Sopra 347 1137745
Malga Mudleralm Rasun Prati di Brunner 348 4509858
Rifugio Mudlerhof Rasun Rasun/Tesido 0474 950036
Rifugio Alpe Nemes Sesto Passo Monte Croce 0474 710699 - 347 0119360 www.alpe-nemes.com
Rifugio Pian di Cengia Sesto Tre Cime 0474 710258 - 337 451517 www.rogger.info
Rifugio Coltrondo Sesto Passo Monte Croce 340 4914101
Rifugio Piano Fiscalina Sesto Val Fiscalina 0474 710044
Rifugio Froneben Sesto 0474 501095
Rifugio Gallo Cedrone Sesto Monte Elmo 340 2334546 www.hahnspielhuette.com
Rifugio Pendio Monte Elmo Sesto Monte Elmo 0474 710097 - 328 6933876 www.helmhang-huette.com
Ristorante Monte Elmo Sesto Monte Elmo 0474 710255 - 0474 910070 www.helm.bz
Pollaio Sesto Signaue 348 2423654 - 348 5933751
Baita del Cacciatore Sesto Monte Elmo 349 3580369 www.jaeger-huette.com
Rifugio Klammbachalm Sesto Passo Monte Croce 335 6572955
Rifugio Larice Sesto Monte Elmo 0474 710086 - 335 6955134
Putschall Sesto Val Fiscalina 347 2206832 www.putschall.it
Rifugio Prati Croda Rossa Sesto Croda Rossa 0474 710651 - 348 4439834 www.rotwandwiesenhuette.it
Rifugio da Rudi Sesto Croda Rossa 0474 710063 - 0474 710436 www.rudihuette.it
Rifugio Fondo Valle Sesto Val Fiscalina 0474 710606 www.talschlusshuette.com
Rifugio Comici Sesto Cima Dodici 0474 710413 - 0474 710358 www.zsigmondyhuette.com
Malga Leckfeld Sillian Karnischer Kamm/Austria 0043 4842 20130 - 664 3412813 www.leckfeldalm.at
Rifugio Sillianerhütte Sillian Karnischer Kamm/Austria 0043 4842 6208 - 4842 6770
Thurntaler Rast Sillian Thurntaler/Austria 0043 4843 5243 - 664 5110368 www.thurntaler-rast.at
Rifugio Fodara San Vigilio Fodara Vedla 0474 501093 - 349 3625240 www.fodara.it
Rifugio Lavarella San Vigilio Fanes-Sennes-Braies 0474 501079 www.lavarella.it
Munt de Sennes San Vigilio Fanes-Sennes-braies 0474 501311 www.muntdesennes.it
Rifugio Pederu San Vigilio Valle di Rudo 0474 501086 www.pederu.it
Rifugio Sennes San Vigilio Fanes-Sennes-Braies 0474 501092 www.sennes.com
Malga di Tesido Tesido 340 3359611
Rifugio Bonner Dobbiaco Corno Fana 340 9428264 www.bonnerhuette.it
Rifugio Tre Cime/Locatelli Dobbiaco Tre Cime 0474 972002 - 329 6690335 www.dreizinnenhuette.com
Rifugio Lachwiesen Dobbiaco Costanosellari 340 7108564 - 348 7063162
Malga Lange Alm Dobbiaco Tre Cime 349 7312635
Malga San Silvestro Dobbiaco San Silvestro 340 3187246
Rifugio Gröber Versciaco Monte Elmo 0474 916158 www.groeberhuette.com
Rifugio Volkzeinerhütte Villgraten Austria 0043 644 9888800 www.tiscover.com/ volkzeiner.huette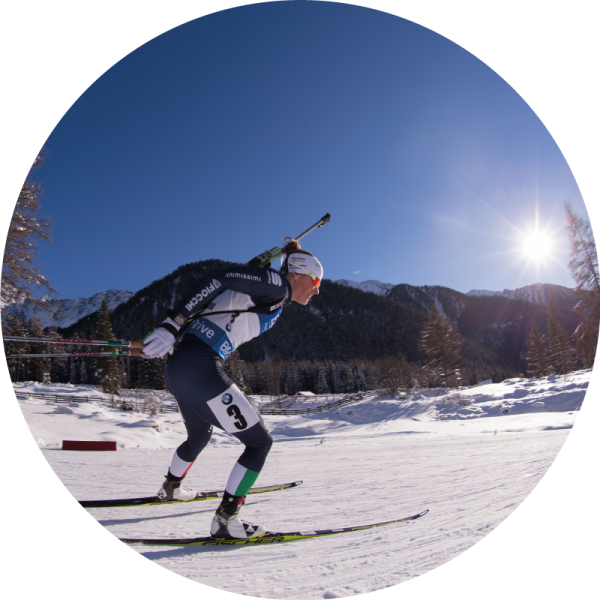 Bavarian Curling at Ratsberg
Every year when the temperature drops, our playground turns into a rink. Once a week we arrange a Bavarian Curling tournament for our guests. It's always great fun to do Curling, meet the other guest and enjoy the fantastic panorama.
Everybody gets an original 'Ratsberg'-medal at the award ceremony and hot spiced wine to warm oneself up.


Ice hockey and ice-skating at Toblach, Dobbiaco (italian)
Ice-skating is one of the most elegant sports. If you do a few rounds on the ice, enjoy a varied evening with friends, or simply want to try ice-skating at Toblach You find a beautiful ice-skating rink. In addition there are held ice hockey games for everyone who is interested.
Further informations: CLICK HERE


Cross-country-skiing in the Val Pusteria Valley

Hochpustertal offers many well groomed cross-country ski runs that lead through a wonderful landscape. These runs are perfect for both classic and skating style and many professional teams meet in South Tyrol to make use of them. Cross-country skiing in South Tyrol has been very popular for many years, especially for its natural surroundings.
Cross country skiing is fun and most of all healthy. The ski region of Hochpustertal is located on an altitude between 1.130 and 2.200 metres and provides thus a very special climate. There are more then 200 kilometres of cross-country ski runs, from which about 150 are connected.

International Gsieser Tal Race
Biathlon Worldcup Anterselva
Pustertal Valley Ski Marathon

In addition, the following ski regions united to the biggest cross-country circle in Europe, named DOLOMITI NORDICSKI. 1.300 kilometres of cross-country ski runs can be cruised with one single ski pass.

Alta Badia–Armentarola/Sarè: Lenght of the cross-coountry ski run: 4 km - 23 km
Rasen-Antholz: Lenght of the cross-country ski run: 20 km - 60 km
Gsieser Tal-Welsberg-Taisten: Lenght of the cross-country ski run: 15 km - 42 km
Hochpustertal-Südtirol: Lenght of the cross-country ski run: 70 km - 200 km
Hochpustertal-Osttirol/Austria: Lenght of the cross-country ski run: 12 km - 120 km
Comelico Sappada: Lenght of the cross-country ski run: 6 km b- 52 km
Cortina d'Ampezzo: Lenght of the cross-country ski run: 7 km - 70 km
Auronzo-Misurina-Lorenzago: Lenght of the cross-country ski run: 7 km - 52 km
Tauferer Ahrntal: Lenght of the cross-country ski run: 3 km - 50 km
Seiser Alm - Gröden: Lenght of the cross-country ski run Seiser Alm: 2 km - 60 km
Lenght of the cross-country ski run Gröden: 1,1 km - 55 km
PelmoSkiCivetta
Lenght of the cross-country ski run Zoldo: 1,2 km - 13,5 km
Lenght of the cross-country ski run Peronaz di Selva di Cadore: 2 km - 12 km
Lenght of the cross-country ski run Passo Cibiana di Cadore: 2 km - 7,5 km


Biathlon

For amateurs and professionals
Concentrating, even when the heart rate has gone up to 180 and won't quit, allowing the hand to bob up and down in rhythm to the blood. Reducing the entire world for just a moment to only the line of sight – with the biathlon, a lot more is demanded than just stamina and energy. It is also about command of the body here. Anyone who would like to try out this sport once can do so at any time at the Anterselva-Antholz Biathlon Center – either in the form of a course or else in a race for fun with friends.

World Cup
The biathlon high point of every season in the area is very clearly the World Cup that is held here every year. It simply has to be experienced how thousands of spectators and fans from all over the entire world cross their fingers for their favorites who have traveled here from far and wide and also get a roar going together in the stadium and the festival tent. During the day, it's the stands that are shaking, and at night it's the dance floors. The renowned biathlon World Cup race is more than just a sporting event in the midst of the wild and breathtakingly beautiful mountain scenery. This is where winter itself is celebrated.

For more details klick here


Skiing in Val Pusteria
Helm is the biggest ski-region in the Pustertal valley. It is located on an altitude of 1300 to 2200 metres and its slopes are mostly suitable for experienced skier. The ski-region helm offers 4 chair lifts, 3 ski lifts and more than 21 km of slope. To this ski-region belongs the longest downhill in this area, of about 5 km. You can ski amidst a wonderful landscape and take part at different events that the ski-region Helm offers. Other attractions are the Helm-restaurant with playground, ski rental, ski school, cosy huts and sun terraces.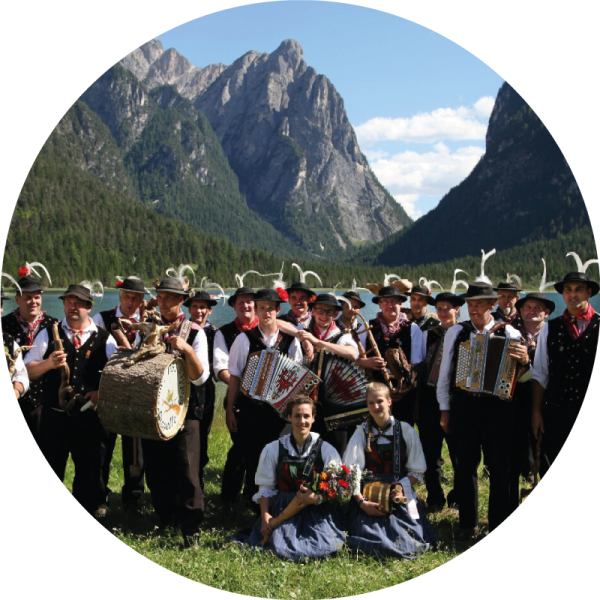 Events in Val Pusteria
Always the last news


loading ...
Sacred Heart fire at the summer solstice
The custom of lighting a fire around the summer solstice actually goes back to ancient times: The solstice and St. John's bonfires are documented as early as the 12th century. In the 18th century, the custom was reinterpreted: in 1796, faced with the imminent threat of Napoleon's troops invading, the Tyrolean provincial estates solemnly promised to entrust the country to the "Sacred Heart of Jesus" and to commemorate it every year.

After the surprising victory of the Tyrolean troops over the French, the so-called Sacred Heart Sunday was celebrated on the 3rd Sunday after Pentecost. Andreas Hofer renewed the oath before the Battle of Bergisel against the French and Bavarians as a unifying bond among the Tyroleans: Hofer's troops were victorious, and this made Sacred Heart Sunday a high holiday.

The Sacred Heart fires are still lit in many valleys today on Sacred Heart Saturday or Sunday and illuminate the sky over South Tyrol.
Dolomiti Superbike

Dolomiti Superbike is considered to be one of the most impressive scenic and at the same time toughest MTB races in South Tyrol and throughout Europe. Roughly 4,500 pros and amateur mountain bikers go on a pilgrimage in July year after year to tranquil Villabassa/Niederdorf for a sporty biking holiday in South Tyrol and transform the village and the entire Val Pusteria/Pustertal into THE hotspot for mountain bikers and bikers in the Dolomites and the Alps for a few days.

07.07.22–10.07.22
Balloonweek - ASV Dolomiti Balloonfestival

Flying at Dobbiaco (during the whole year)
A trip with the hot air balloon over the picturesque Dolomites of the Alta Pusteria. A breathtaking adventure that makes you forget all your daily stress.

BALLOONWEEK
8.1. - 16.1.2022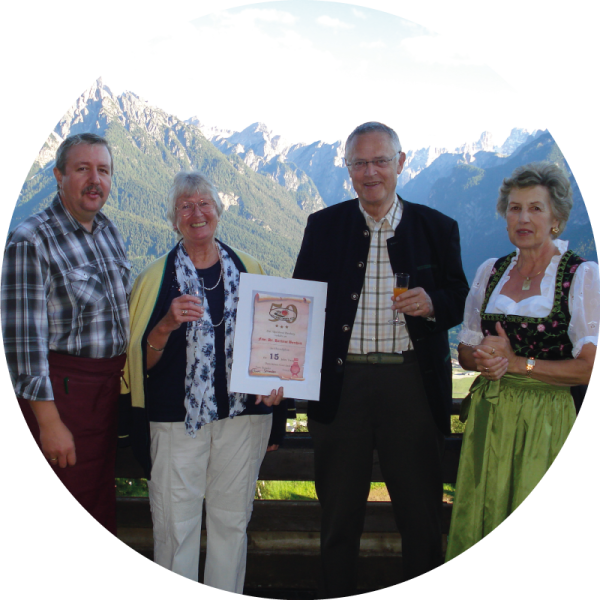 Happy guests

We thank our guests for their loyalty every 5 years by honoring them and giving them a certificate and a small souvenir.
Health and sustainability
Positive effects at an altitude of over 1,500 m.a.s.l

According to a wide-ranging vacation study in Austria, you can recharge your batteries if you vacation at an altitude of over 1,500 meters.
This is another advantage of our location:
We are at 1,650 m asl.

Here is an excerpt of the most important results of the pilot study in Lech
• The economization of the cardiovascular behavior, especially shown in the blood pressure and pulse behavior; there was a decrease in elevated blood pressure values, normalization of the pulse rate, and blood pressure-lowering medication could be reduced.
• Improvement of the blood sugar and blood lipid metabolism situation.
• Change in anthropometric data, with average weight decreases of 2.5 kg, the decrease being primarily due to a decrease in body fat mass, while body water and lean body mass remained unchanged.
• Positive neuropsychological effects: significant and sustained decrease in subjective symptoms, improvement in positive attitude towards life, negative mood decreased, average reaction times were continuously improved, sleep quality and duration as well as the ability to sleep through the night have increased significantly.
• Increase in young red blood cells (reticulocytes), which have better oxygen transport capabilities
• Decrease in substances that promote thrombosis (fibrinogen).

First trends of the comparative study
The first trends of the comparative study in Obertauern/Mauterndorf/Bad Tatzmannsdorf 2000 confirm the results of the Lech pilot study and show positive effects both at altitude and in the valley, e.g. B.
• Economization of the circulatory behavior (pulse)
• Decrease in body weight
• Improvement of well-being
• At high altitude, due to the special climatic conditions (slightly lower oxygen pressure, mild hypoxia), there is an additional factor that particularly activates our reserves. This causes, for example, an improvement in the oxygen transport function and an increase in the blood-regenerating hormone erythropoietin / the timing of the various changes at altitude and in the valley is also different.
• Leptins and assessment of the oxidative stress factors were also examined for the first time in connection with a mountain or valley vacation; new insights can be expected into the effects of vacationing on appetite and weight regulation, as well as the body's detoxification abilities; Details can only be announced after the evaluations have been completed.


The topic of environmental protection and closeness to nature has become increasingly important in recent years.

The Alpenhotel Ratsberg in South Tyrol has made some investments to ensure sustainability and respect for nature. We, the Stauder family, are committed to environmental protection and would like you to know about these activities - we have taken the following measures in recent years:
• Full thermal insulation on the facade and in the attic
• Wood pellet heating for the entire hotel with wood pellets from renewable local raw materials
• Solar systems (80 square meters) since 1978 for heating and hot water
• Mainly use of energy-saving lamps
• Mostly use of motion detectors on all floors
• Use of natural woods in the modernization works of the rooms
• Cooperation with regional companies during the last conversion work
• Use of local quality products from local farmers, dairies and producers
• Waste sorting station
• E-charging station for electric cars

We continue to strive to protect and respect our environment as much as possible and will continue to give a lot of thought to how we can make and optimize the Alpenhotel Ratsberg in South Tyrol even more environmentally friendly for you.

Do you like our environmental awareness? Would you like to convince yourself of the environmentally friendly innovations in our hotel? Then send us a non-binding booking request for your stay in an environmentally friendly and nature-loving hotel in South Tyrol.