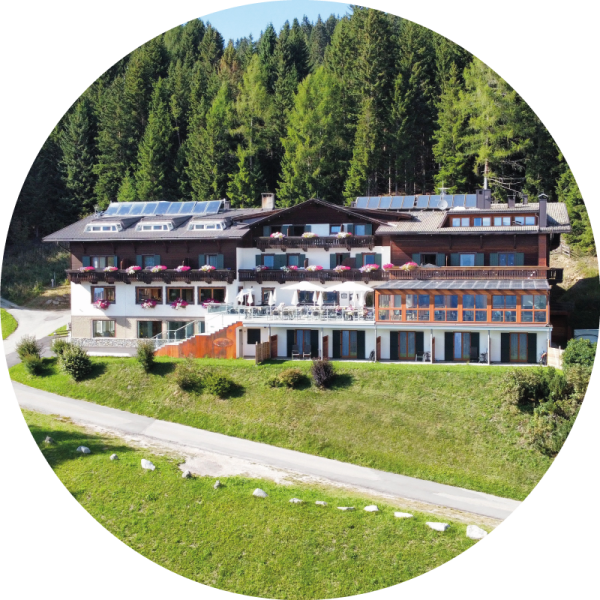 Welcome in the Alpenhotel Ratsberg in Pusteria Valley
Holidays in South Tirol on an altitude of 1650 meters

Our hotel is located on an altitude of 1650 meters with an unique view to the Dolomites, to Dobbiaco and its surroundings, to the lake of Toblach, and to the 'Pustertal' valley and the Kristallberg. Amidst impressive scenery and quietly situated the hotel is only 5 km off the centre of the village.
We are looking forward to your visit.

Yours Stauder family and employees.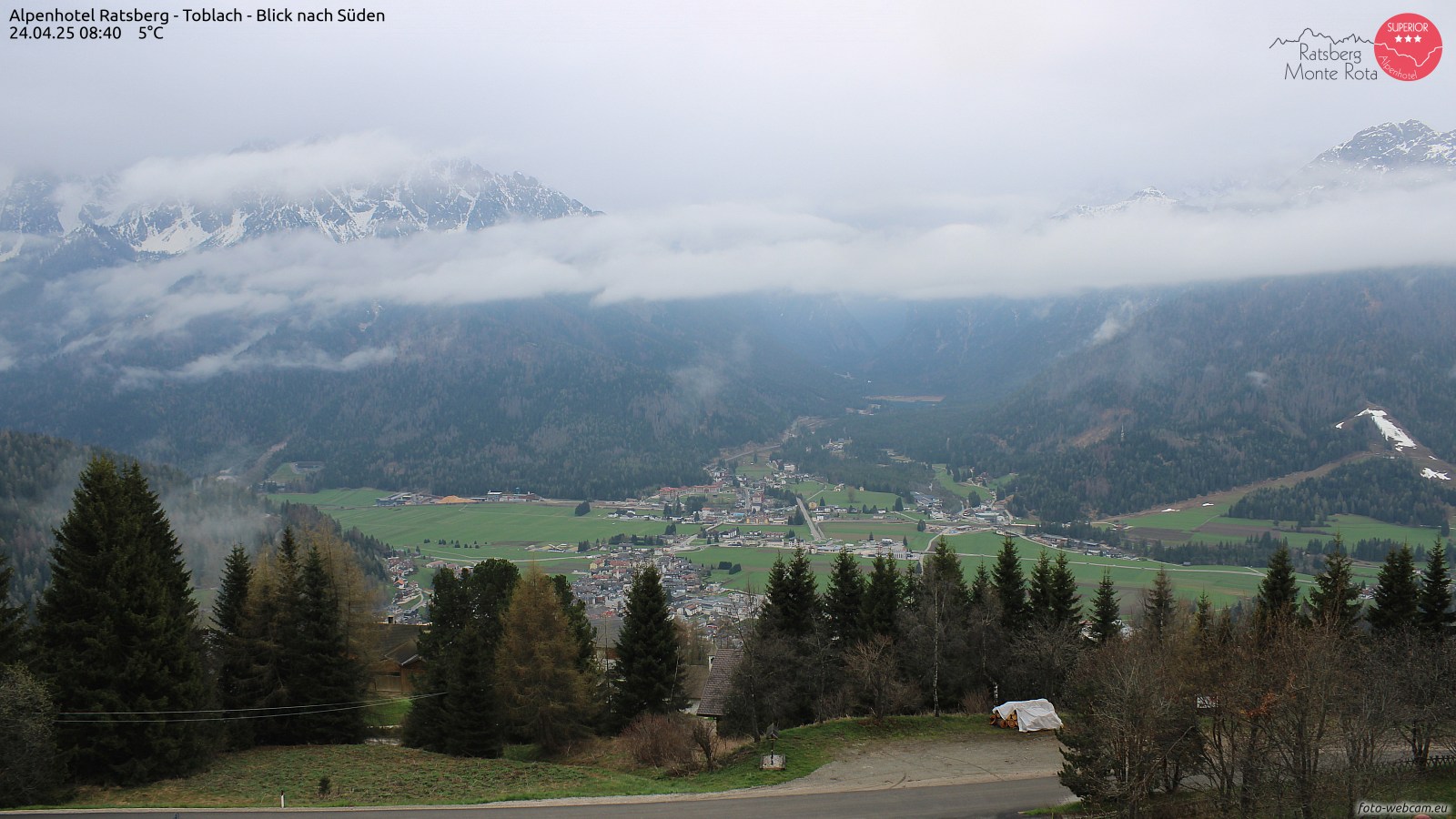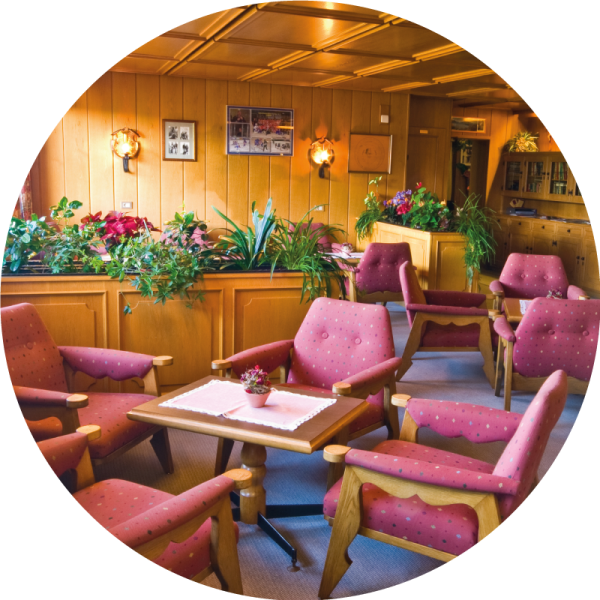 An ambience to feel good in the Hotel Ratsberg in Pustertal
Spend some lovely days at our hotel and let yourself be pampered with delicious meals. Be comfortable in our cosy and ample rooms and enjoy the wonderful view.

Our "leisure park" in the middle of the beautiful Dolomite mountain world will inspire you and provide a good variety... with ping-pong, trampoline, boccia alley, children's playground, sports hut and sunbathing area at the house with parasol, ...so you can fully enjoy the sunny days !
The entire hotel has a wireless LAN network. So you can surf the Internet with your own computer.
We also offer you a large parking lot and garages.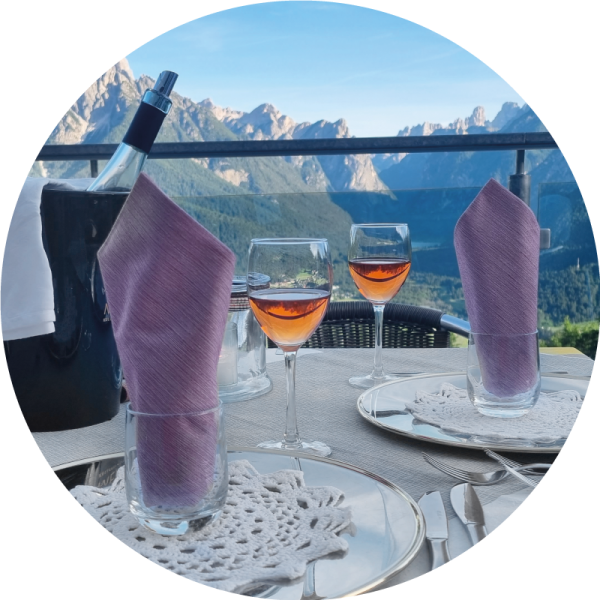 Restaurant and panoramic terrace with a panoramic view of Dobbiaco
South Tyrolean, Italian, international specialties and many other delicacies!

Our cuisine is traditional and creative Pleasure that is particularly important to us.
We hope that you will feel comfortable in our home feel and wish you a good appetite.
The Stauder family and staff

Here you can see our menu

Let our creative kitchen team spoil you every day.

Choose the ambience in which you would like to enjoy our lovingly and freshly prepared delicacies:
In the dining room: our stylish and cozy dining room is also suitable for family celebrations with up to 100 people.

On the terrace: here you can enjoy our culinary delights, panoramic view as well as the sun.

In the conservatory: if the weather doesn't play along, you can enjoy yourself here without having to flee from rain or snow.

Of course you have a unique view of the breathtaking Dolomites, the Höhlensteintal and Toblach at your feet, in the middle of nature.

Breakfast on the terrace when the weather is nice!
We are happy to serve you breakfast on sunny days on our sun terrace.

Restaurant for hikers, mountain bikers and nature lovers
Our restaurant is also recommended for all hikers, mountain bikers and everyone who wants to spend a nice day trip and enjoy the pure nature and view of Toblach's local mountain, the Ratsberg.

Restaurant opening times
• Open all day
• Warm meals from 12.00 - 14.00 and 18.00 - 20.00
• No day of rest
• Same opening times as our hotel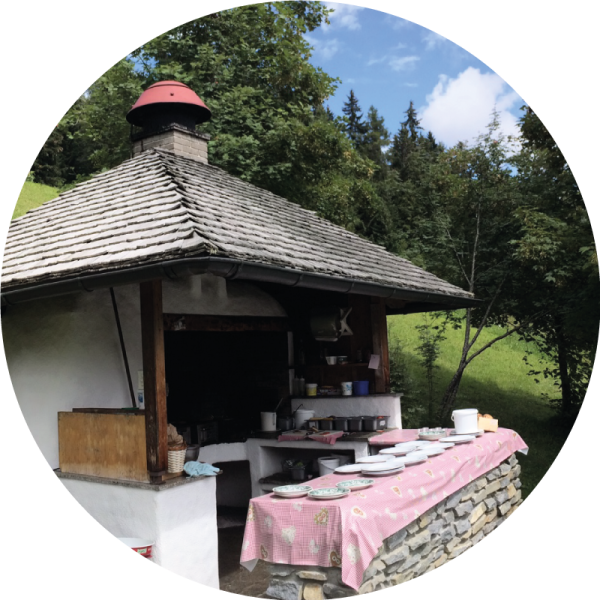 Our barbeque garden
In the summer months of July and August, we serve various grilled specialties in the grill garden from 12:00 p.m. to 2:30 p.m.

Here you can see the menu from our barbeque garden

In winter, our guests can compete on their own curling track.
The most beautiful panoramic location that South Tyrol has to offer
Location and arrival at the Hotel Ratsberg in Dobbiaco, Pustertal

Our GPS coordinates:
northern Latitude: 46°44'55''
east Longitude: 12°13'01''

Car-free Dobbiaco:
The village center of Dobbiaco is reserved for pedestrians.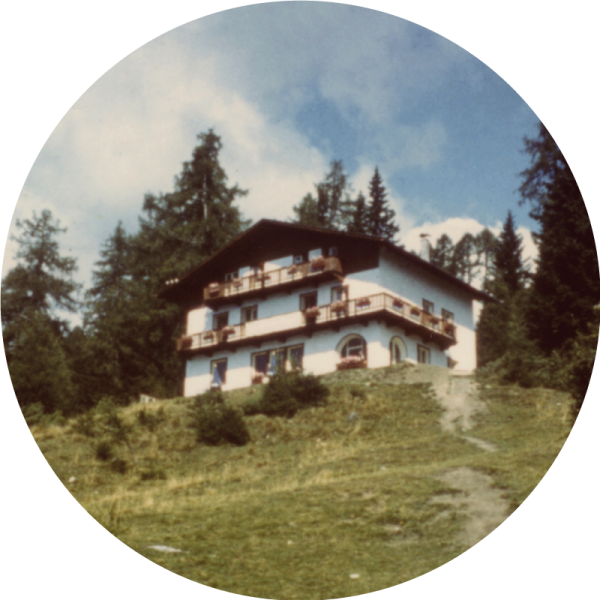 History of the hotel Ratsberg
A look back on 50 years Alpenhotel Ratsberg

In 1948, our grandparents Ida and Josef Stauder build the first wooden hut here on the Ratsberg, which marks the beginning of our hotel.
At that time the chairlift went still up to the Ratsberg grassland on an altitude of 1850 metres. It was a chairlift with timber scaffolding and probably one of the first of its kind in Hochpustertal.
In 1951 was held an Italian Championship of the Telve (Italian Phone Company) on the Ratsberg.

In 1959 the chairlift was shortened to the hamlet Ratsberg and grandmother Ida and our father bought 25x25 property from Mister Andreas Kühbacher. Now they started with the construction of the Alpenhotel Ratsberg. Back then they worked with pits and shovels because modern machines were too expensive.

Before coming to Toblach, our father had been working for 13 years as a concierge in Cortina and our mother many years on the Seiser Alm. Lather she worked in the Hotel Bellevue in Toblach, where they met each other.

The construction of the Alpenhotel Ratsberg was started in 1959. All the building materials were transported by a tractor, which retarded and raised the construction. Family Kühbacher accommodated and catered the labouring man, because it would have been too cumbersome to go back to village everyday.

On January the 6th 1961 was celebrated the opening. Father was still working in Cortina and mother with our grandparents here on the Ratsberg. At that time the guesthouse had 4 rooms with 8 beds and one communal toilet and shower. The rooms had already basins with hot and cold water. Thank to an active innkeeper from Toblach, our parents got addresses from German tourist agencies, which was very helpful.

Since 1962 father has also worked at the hotel. He picked up guests, who came by train and accompanied them to the chairlift, which transported the guests and their luggage to the hotel (there was no street at this time).

Our parents got married on May the 1st in 1962 and in September their fist daughter Sieglinde was born.

In 1962 the Alpenhotel was renovated for the first time and offered now 14 rooms.

One year later father bought another property.

In November 1964 the son Wolfgang was born.

In 1966 our father built a little T-bar lift, which was only 200 metres long, but very efficient: Skiers could easily reach the Ratsberg and enjoy the ski-run.

In 1967 the hotel was supplemented by adding 6 rooms, the dining room and the swimming pool, which was one of the first indoor swimming pools on an altitude of 1.650 metres.

The construction of the street to Ratsberg was started on April the 1st in 1971.

In 1975 the Alpenhotel was renovated for the second time: The wine cellar, 5 rooms, the 'Zirmstube' and the privately owned flat were built.

In 1975 the second daughter Isolde was born.

5 years later our father was elected mayor (burgomaster) of Toblach. It was not always easy to combine the work at the hotel and that for the village, but he could manage it thanks to the big support of the whole family.

In 1987 Sieglinde got married with Günther. Today they have two children: Danny (1993) and Hanna (1996).

In 1989 our Hotel was again improved, by adding a sauna with solarium and whirl pools. Also were built a new foyer and in the area below the hotel a leisure facility with tennis court, bocce lane, sunbathing area, barbecuing area and underground parking.

From 1996 to 2002 the dining-hall, some rooms, the swimming pool and the kitchen were upgraded.

In 1998 son Wolfgang married Sonja. Today they have the children Maximilian (1997), Benedikt (2000) and Katrin (2002).

Our father died in 2005 at the age of 74 after an exciting and successful life.
This are some stages of his life:

1970 – 1980 Member of the local council
1980 - 1990 Mayor of Toblach
1992 - 2004 Chairman of the board of the bank Raiffeisenkasse Toblach
1992 - 2004 Chairman of the electric power station Toblach
1984 Mayor of the youth
Awarded with the medal of merit in gold of the Land Tirol
Awarded with the medal of merit in gold of the village Toblach
Awarded with the badge of honour in bronze of the Raiffeisen bank
Honorary member of the auxiliary fire brigade of Aufkirchen

In 2006 the oil-heating was replaced by an eco-friendly woodchips-heating.

2009 The storeroom gets expanded and the washer and ironing room is moved.

2013 The ground floor gets transformed. The terrace, the ski deposit and the entry are restored and the rooms on the first floor are completely renewed. Furthermore, a veranda gets build, which can be used as restaurant or lounge.

2017-2018 the elevator will be installed, and two rooms are built

2020 some rooms will be renovated and a lawn for sunbathing was realized near the hotel, with direct access to the wellness area

In 2021 our Alpenhotel will be classified as a 3-star superior hotel